Recently, Jody Thompson and I had the good fortune to attend the Team Women Leadership Conference with 600 amazing women. I thoroughly enjoyed the gathering. During the conference, I realized that I have liked every Team Women event I attended. Why is that?
Culture.
Think of culture as the way we do things around here. Katy Burke, executive director of Team Women, sets the tone for the entire organization by being clear about the mission and purpose both with her words and actions. Every single event is designed for women to empower each other. Why we gather is crystal clear - to inspire women to make meaningful connections and rise together. Women share their strengths, collaborate, are inspired by and learn from each other.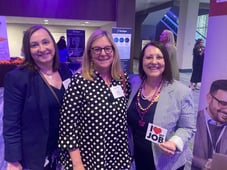 One of the vendors at the conference (thank you Robert Half) was handing out I love my job stickers. My initial reaction was to grab one of the stickers and wear it proudly, Superman style! I can honestly say, I love my job. Why? My CEO is clear about the outcomes I need to produce. I get to share my strengths, collaborate with, be inspired by, and learn from my co-workers. Like Katy, my CEO leads with her words and actions. My manager trusts me. I am both 100% autonomous and 100% accountable for producing results. I am responsible for figuring out the most productive way to spend my time.
This way of working diverges from the antiquated Industrial Era command and control style of management. Rather than focusing on when or where I work, my CEO focuses on what I need to produce or contribute to the organization. When I get stuck, she asks me, "how can I help?' or "what do you need?" Sometimes I just need a little reassurance that I'm headed in the right direction and she encourages me to "keep going." It feels very empowering. Am I engaged? Yes. Am I staying at my job? Yes. Am I committed to producing results? Yes. Am I grateful? Yes.
Do I love my job? Yes. Culture matters.
~Amy Brown, MA, Client Relations Manager, CultureRx®