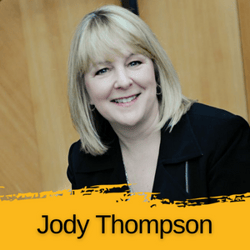 Ask Jody is an advice column written by Jody Thompson. Thompson is the Founding Principal of CultureRx. She is an international keynote speaker on the future of the workplace and has been featured on the covers of BusinessWeek, Workforce Management Magazine, HR Maginze, HR Executive Magazine, the New York Times, TIME Magazine, USA Today, The New Yorker, and on Good Morning America, CNBC, MSNBC, and CNN. She has co-authored two best-selling books on the modern workplace and contemporary management principles, Why Work Sucks and How to Fix It and Why Managing Sucks and How to Fix It.

To submit a question to Ask Jody, email info@gorowe.com. Questions will be kept confidential and may be edited for length.
---
Dear Jody,
My senior leadership team is always concerned about the bottom line. It seems to be the only thing they care about. How does ROWE in the workplace translate into productivity and profits?
Sincerely,

Accounting Manager
Jody's Advice: ROWE-certified organizations report increases in employee engagement, loyalty, trust, and productivity. Other measures include increased collaboration, clarity of communication, openness to change, and strategic alignment. And, ROWE-certified organizations report that the Results-Only Work Environment is a differentiated and powerful talent magnet.
Voluntary turnover rates plummet, while involuntary turnover rates rise as leaders and managers hold people accountable to clear, measurable results. ROWE accelerates performance management, including goal setting and role clarity. It accelerates innovation, experimentation, problem-solving, coaching behaviors, and the employee experience.
All of this together creates a healthier bottom line, and clearer pathway for growth. One of our ROWE-certified clients had top-line growth of 100% in less than 5 years following ROWE adoption. ROWE-certified organizations realize up to 30 times their ROI working with CultureRx on ROWE implementation, adoption, and support.
Your work culture guide,
Jody
---
What Does Your Work Culture Say About Your Company?
Are you operating in an employee empowering and equitable way? Take a 2-minute quiz and find out.
---