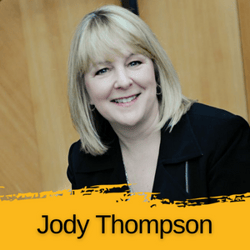 Ask Jody is an advice column written by Jody Thompson. Thompson is the Founding Principal of CultureRx. She is an international keynote speaker on the future of the workplace and has been featured on the covers of BusinessWeek, Workforce Management Magazine, HR Magazine, HR Executive Magazine, the New York Times, TIME Magazine, USA Today, The New Yorker, and on Good Morning America, CNBC, MSNBC, and CNN. She has co-authored two best-selling books on the modern workplace and contemporary management principles, Why Work Sucks and How to Fix It and Why Managing Sucks and How to Fix It.

To submit a question to Ask Jody, email info@gorowe.com. Questions will be kept confidential and may be edited for length.
---
Dear Jody,
I'm a mid-level manager in my organization. What would my job responsibilities and role look like in a ROWE?
Sincerely,

Strategic Partnerships Manager
Jody's Advice: Managers play a key role in making sure the work gets done. Traditional flexibility programs – including the hybrid approach – are managed by managers, and work time and location are negotiable and relevant. In a ROWE, accountability to measurable results is the only thing that is relevant and non-negotiable. A manager becomes a Results Coach in a Results-Only Work Environment, and no longer manages people, or how, when, or where work happens. Results Coaches manage the work and ensure deadlines are met, budgets are on track, and customers are satisfied. The transition from a manager to Results Coach requires a shift in mindset along with adopting new skills and knowledge base. CultureRx has a proprietary process to help managers transition.
Your work culture guide,
Jody
---
What Does Your Work Culture Say About Your Company?
Are you operating in an employee-empowering and equitable way? Take a 2-minute quiz and find out.
---